Winner-Winner Snack-Pak Dinner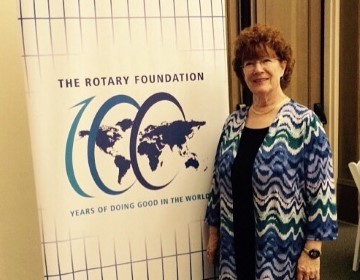 Joan Kearl, Masters Leadership Program (MLP), Class VII, has been the epitome of "service above self" for as many years as anyone can remember. The San Antonio Downtown Rotary Club, one of the largest in the U.S., realized she lives their credo and made her its president for 2016-2017. Leadership comes naturally to Joan, and others regularly pursue her to head up just about any important initiative that needs to be assured of success.
Examples are numerous like Snack Pak 4 Kids, where Joan has served on the SP4KSA board and led her Rotary Club's efforts of supplying snacks to food-insecure, elementary students at three different schools for seven years. Or founding the Trinity University Rotaract Club that develops college students into our leaders of the future, and chairing it for 22 years. When you throw in her non-profit board service over the past ten years at City Year, MLP Alumni Association, Prospera, the Oakes Club of SA, and Texas Pastel Society, you can readily see the impact MLP has had on Joan and vice versa; for all of these took place after she graduated from Class VII in 2011. Makes you wonder where she finds the time to be so giving.
Joan found MLP early on and knew it was right up her alley: a chance to learn more about the community, gain exposure to the non-profits in it and connect with at least one to assist them in furthering their mission. She commented "MLP is the perfect program to produce non-profit board leaders and place them where they are needed most. I was already involved with a few non-profits, but after MLP, it became contagious, and I couldn't stop."
MLP Executive Director Michele Hoskins, said "Joan Kearl is what we hope all of our graduates aspire to do after they complete the program. She takes servant leadership to a whole other level. What a role model!"
By any measure, Joan is a shining example of an individual who makes her community a better place to live and the organizations she serves stronger. No wonder so many non-profit boards seek her out. She wrapped it all up by saying, "Thanks to MLP for kicking my giving into high gear. Giving back is more rewarding than I could have ever imagined."