Overcoming Roadblocks and Coming in First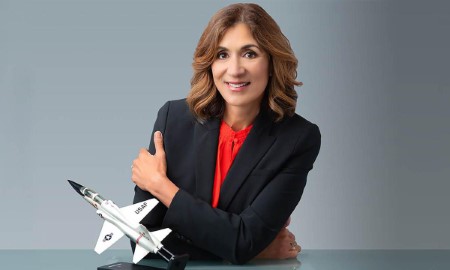 Have you ever been barred from entry and still come in first. Well, Olga Custodio, MLP Class XIV graduate, surely has. Despite being told "Women weren't allowed in the Puerto Rico Reserve Officer's Training Corp", even though she had one of the highest entry scores, Olga became the US Air Force's first female T-38 flight instructor at two USAF military flight training bases. Persistence and resilience come naturally to her. No was never a deterrent. That approach to life brought Olga honor after honor; the first Latina inducted into the San Antonio Aviation and Aerospace Hall of Fame, 2022 National STEM Award and Sociedad Herencia Puertorriquena CoquiSA Award (for furthering the Puerto Rican culture in San Antonio).
Her drive to make San Antonio a better place led her to take on the role of Board President of the Puerto Rican Heritage Society and advisory board positions at both the San Antonio Museum of Art and Southwest Texas Junior College. Then Olga heard about MLP and the amazing job they did educating individuals about San Antonio and developing board members and pairing them with local non-profits. "When I was told about MLP, it sounded too good to be true. And once I started attending the class days, I realized it really was." said Olga.
Those connections led to more and more giving back. Currently, she is a board and committee member of the Dee Howard Foundation, Daedalian Foundation, Women In Aviation Alamo City and the Founder of the Ballet Folklorico Boriken, not to mention several non-board committees. Olga stated, "MLP required that I join a board upon graduation, and I continued to find more non-profit boards that met my passion and could utilize my skillsets." Of course, it helps that her list of skillsets are extremely broad and deep; such as management, communications, military affairs, social media, public speaking, logistics, fundraising, information technology and grant writing. Not surprising local non-profits were chomping at the bit to have her join their boards.
Olga doesn't face many barriers these days, because she is in such demand. Those early lessons positioned her well to assume leadership roles in many different organizations, and our community is clearly better off for it. We can bet there are many more firsts ahead of her.