Mentoring Builds Cultural Capital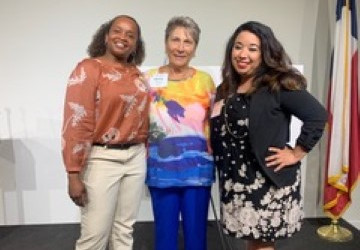 The importance of mentorship is like the importance of friendship– it's better understood in the actual relationship than explained. Graduates of the Masters Leadership Program (MLP) have many life experiences and skills to share with students. The opportunity to serve as mentors for the Alamo Colleges Student Leadership Institute (SLI) places them as trusted advisors providing support, guidance, advice, and help in whatever capacity that they can.
Not all life skills are taught in a classroom. The MLP mentorship relationship quickly becomes personal and while it may only last a short time, it can make an impact with lasting effects. The relationship is aimed at helping college students achieve their goals, which may vary from balancing being a young parent with class schedules, being the first in their family to attend college or building their confidence to go on their first job interview.
Up to 14 MLP graduates serve as mentors for SLI in any given academic year and most consider the program effective. The MLP mentor – SLI student bond is often so organic and effortless, it's giving students an opportunity to create themselves. Sample comments from MLP mentors:
"My mentee is an impressive individual who is working very hard to get through school. We met almost every Sunday… She works part time, attends classes and made time for us."
"I often assigned movies for her to see or plays that had good examples of different aspects of leadership. We would then get together via Zoom and discuss the different themes. She is studying to be a nurse at SAC. I suggested she try to get a job working at one of the vaccine sites. Well, she did it."
"I shared groceries with her during the freeze, and we discussed many things from entrepreneurship to income taxes and Covid relief. When the mentee expressed an interest in pursuing a human resources career, we setup a call with a retired HR executive that was very helpful to her."
Want to Join?
Starts every September and runs for one academic year (2 semesters)
Introductions to students via ZOOM
Expected interactions 8-10 times per academic year
Interactions can be in person, email or phone call
Email or call Brad Freeman, Bd54@satx.rr.com, (210) 383-2728
Non-Profit Organization Featured: The Alamo Colleges District Student Leadership Institute (SLI) develops and inspires students to become proactive, productive, and engaging leaders. A district-wide student success initiative, SLI is designed to eliminate barriers and provide educational and leadership opportunities for prospective and current students of the Alamo Colleges. Established in the fall of 2001 SLI continues to empower today's students to become tomorrow's leaders.