John Ebbe - Gone But Not Forgotten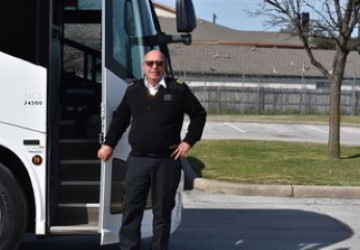 John Ebbe, our beloved class day bus driver for many years has passed away.
Each MLP class that encountered John, knew him to be energetic, enthusiastic, and caring. John welcomed everyone with a warm smile and helping hand. The entire MLP family extends our sympathies to John's family. He will be missed.
Please join family and friends in celebrating his life and impacts on our community:
Visitation
- Sunday, March 20, 2022, from 4 to 8 PM and Monday, March 21, 2022 10 am - 12 PM
- Castle Ridge Mortuary North, 10901 W. Loop 1604 North
Funeral Service
- Monday, March 21, 2022, at 2:00 PM
- Castle Ridge Mortuary North
Graveside Service
- Monday, March 21,2022 at 2:30 PM
- Fort Sam National Cemetery
Please send condolence cards to Vickie Ebbe, 15506 Tamaron Pass, San Antonio, TX. 78253
Obituary