Masters Leadership Program (MLP) Grad Re-Dedicates George H. W. Bush United Nations Exhibit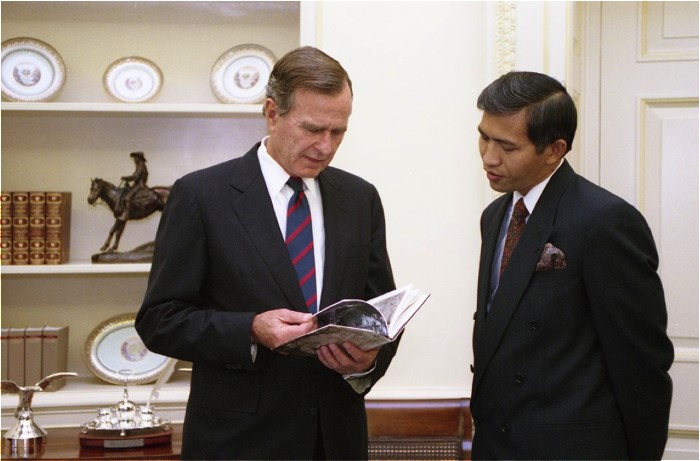 Sichan Siv, MLP Class XV Graduate, former presidential assistant and United Nations (UN) Ambassador, had the recent honor of re-dedicating the George H. W. Bush Presidential Library UN Exhibit located at Texas A&M University College Station on October 24th. His extremely close relationship with the President resulted in Siv being only 1 of 5 individuals to be invited to fly on Air Force One with the President's body upon his death.
From 1989 to 1993, Ambassador Siv served at The White House as Deputy Assistant to President George H. W. Bush and at the State Department as Deputy Assistant Secretary. He has held various positions in the private sector. The international bestselling author of the American dream story "Golden Bones: An Extraordinary Journey from Hell in Cambodia to a New Life in America", he has also authored the political thriller "Golden State: Love and Conflict in Hostile Lands".
In 2001, Siv was unanimously confirmed by the Senate and appointed by President George W. Bush as an ambassador to the United Nations, serving until 2006. In June 2005, Ambassador Siv represented the United States at the 60th Anniversary of the UN, in the footsteps of Presidents Truman, Eisenhower, Johnson and Clinton.
While traveling the World, yet wanting to make a difference in his local community here in San Antonio, Siv prioritized and made time to apply to and be accepted into the Masters Leadership Program. "It was one of the best decisions I've made." Thanks to MLP, I am now involved as a Deacon at First Presbyterian Church, a trustee of the San Antonio Museum of Art. I have also been appointed by Governor Abbott and confirmed unanimously by the Senate to the Texas Board of Criminal Justice and am looking forward to joining the Board of World Reformed Fellowship.
"I've always had a heart to serve, and MLP opened a whole new world by educating me on the needs of the San Antonio Community and connecting me to non-profits that matched up with my passions. Everyone should take advantage of the MLP opportunity. It positions you to make our City a better place to live for all of us."