Michele D. Hoskins
Executive Director
Class XV (2019)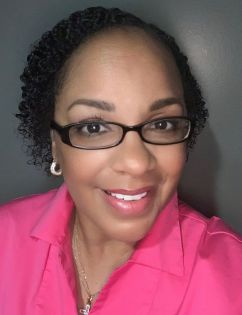 Michele Hoskins, is a former educator, professional leadership development trainer and motivational speaker for more than 30 years. Currently, Michele and her husband Paul are Urban Air Adventure Park Franchisees, have two (2) parks in San Antonio, and are planning to open an additional park and coffee shop late 2021. Michele is also a licensed Minister, former McDonald's Franchisee, Author, co-Author of two books, Motivational Speaker, College Professor and active community leader. Michele recently launched another company, Maintain Momentum, is starting a podcast, blog and near completion of her book, Love That Works, Works! Michele is very competent in establishing goals, developing strategic action plans, and executing plans for running successful operations to the benefit of all.
A particular set of skills contributing to Michele's accomplishments are her ability to design and develop models for successfully operating multiple businesses. She has a high level of understanding utilizing the basic foundation of a business and incorporating comprehensive strategies to reach goals and objectives. In addition, Michele's background as a trainer coupled with a strong financial sense, knowledge of how systems work, and building positive relationships with people at every level, make Michele well suited for business and leadership.
Michele demonstrates a high level of creative leadership and works collaboratively to drive results in all of her endeavors. Michele's passion for life is evident and proven in her ability to develop leaders, create programs, training materials, innovative systems, tools, and thinking that are essential to the health and viability of ministry and entreprenrship. Michele is committed to the community and works tirelessly to give back. Michele is determined to make a positive impact by promoting growth opportunities focused on building stronger communities, and supporting non-profits, educational institutions, and churches.
Michele is in the final stages of completing her second doctorate degree in Organizational Management/Christian Ministry from Grand Canyon University, has completed PhD studies from Capella University, holds a Master's Degree in Educational Leadership from Northern Arizona University and Bachelors of Arts Degree in Business Administration from the University of Phoenix. Michele is also a graduate of MLP (Class XV).
Michele loves to dance, read, travel and spend time with her family. Michele is happily married, 30 years to her husband Paul, they have 12 year old twins, Hayley and Hayden, and along with their puppy Drayko reside in Garden Ridge, TX.