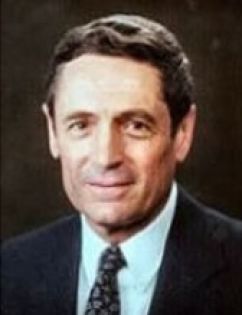 Bob's Air Force career began in fighter-interceptors, technical intelligence, the Flight Test Center and Space Systems before tours as a wing commander in Strategic Air Command. Later, he was commander of Air force Communications Command, The Eighth Air Force, and as Joint Staff J-6, was promoted to general to become commander of NORAD and the first commander of US Space Command. On retirement from active duty as Vice-Chairman of the JCS, the first to hold that position, he joined management of USAA and became Chairman and CEO of the company in 1993. After leading USAA for nine years and through its expansion to serve enlisted members, he retired in 2002.
After his USAA retirement, Bob continued to be involved in a number of business and philanthropic activities and served on the board and later as chairman of Luby's, Inc. Over the course of his various careers, Herres was involved in and led a broad range of business and industry activities and numerous community serving endeavors, including chairmanship of the 1994-95 United Way campaign of San Antonio-Bexar County.
Bob sadly passed away on July 24, 2008. In honor of this great leader and visionary, the General Robert T. Herres Masters Leadership Scholarship is now officially endowed at the Alamo College Foundation.