Mauli Agrawal
Class IV (2008)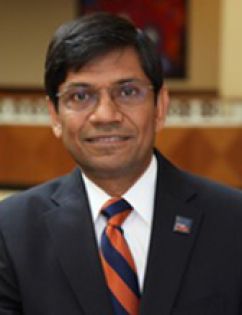 Dr. Agrawal is the Vice President of Research at the University of Texas at San Antonio (UTSA). He holds the Peter Flawn Professorship in Biomedical Engineering. Prior to joining UTSA in 2003, he worked at the University of Texas Health Science Center at San Antonio (UTHSCSA). Before that he served on the faculty at Duke University. He obtained his Ph.D. from Duke University (1989), MS from Clemson University (1985) and a B. Tech. from IIT-Kanpur, India.
Prior to his latest appointment he served as the Dean for the College of Engineering at UTSA. During his 8 year tenure as the dean, the College of Engineering experienced a 40-50% increase in both student enrollment and faculty size, and a 400% rise in research funding. In 2010, working closely with the City of San Antonio and Mayor Julian Castro, he was instrumental in establishing the Texas Sustainable Energy Research Institute at UTSA which then received a $50m pledge of support from CPS Energy.
Dr. Agrawal has served on the editorial boards of various scientific journals including the Journal of Biomedical Materials Research, Journal of Biomedical Materials Research (Applied Biomaterials), Tissue Engineering, Journal of System of Systems (IEEE), Journal of ASTM International, and the Journal of Tissue Engineering and Regenerative Medicine.
He serves on the Board of Trustees of the Southwest Research Institute and as a member of Clemson University's College of Engineering Advisory Board. He also serves on the Boards of the following organizations in San Antonio: United Way's Master's Leadership Program, Alamo FIRST, Biomed SA, Texas Research Park Foundation, and the San Antonio Medical Foundation.
Dr. Agrawal's research specializes in the area of orthopedic and cardiovascular biomaterials/implants. During his professional career, Dr. Agrawal has been the recipient of several honors and awards, and has authored more than 300 scientific publications and 18 patents. His latest book, a textbook on biomaterials, was published in 2014. He was inducted as a Fellow of Biomaterials Science and Engineering (FBSE) by the International Union of Societies for Biomaterials Science and Engineering (IUSBSE) in 2008. He is also a Fellow of the American Institute for Medical and Biological Engineering and was elected the 2006 President of the Society for Biomaterials (SFB) – a worldwide organization. In 2013 he was awarded the Service Award by SFB.
Many of Dr. Agrawal's patents have been licensed to commercial entities. His bioengineering research group has been responsible for the launching of three companies in San Antonio. In 2007, he was awarded the Chancellor's Entrepreneurship and Innovation Award from the University of Texas System, and the Healthcare Hero Award for biomedical research by the San Antonio Business Journal. He is the 2010 recipient of the Julio Palmaz award for Innovation in Healthcare. He was appointed by Governor Rick Perry to serve (2008-2011) on the Advisory Board for the Texas Emerging Technology Fund (ETF). The $200 million ETF invests in start-up technology companies.