John Garcia
Class X (2014)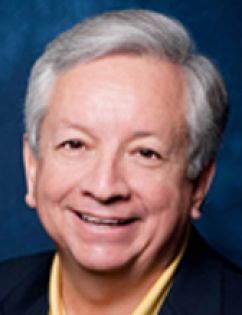 A native of San Antonio, Mr. Garcia returned home 6 years ago after a successful 35-year career at the leading edge of innovation in the telecom industry. John was the 40th employee hired at Sprint when they began in the wireless industry and left 14 years later as the President of the Wireless Business Unit. Along the way he held positions as Chief Marketing Officer, President Sprint / Cable Joint Venture, SVP Product Development, SVP Sales and Distribution and Regional President. Under his direct guidance Sprint led the industry with many firsts and unique innovations, including; first cellular company to offer texting, first offering of cellular data, first picture phone, first video on cellular (this earned an Emmy Award), first Store-within-a-store joint project with Radio Shack, first Unlimited Service plans and first in the US with a wireless reseller program (signed Virgin Mobile, ESPN, Disney and many others). While at Sprint he was responsible for 2,400 owned retail stores, an Enterprise sales team and an indirect team of Account Executives totaling over 16,000 employees, he also managed the Handset group responsible for partnering with world-wide manufacturers resulting in annual purchase of over $4 billion and also had responsibility for all advertising and Sports marketing with the NFL and NASCAR with an annual budget of $1 billion. As President, he was responsible for P&L with revenues of over $27 billion annually.
Prior to Sprint, John joined Southwestern Bell's Management Development Program in Austin after graduating from the University of Houston with a Bachelor in Business administration – Marketing degree in 1976. He progressed through the organization leading to promotions to St. Louis with AT&T and then to their national headquarters in New Jersey. He then joined GTE Mobilnet in Houston during the earliest days of cellular introduction in 1986. He again progressed through the organization based on results eventually serving as Regional President of the mid-Atlantic region. During his time with GTE he also had assignments in Chile, Venezuela, Argentina and West Germany.
After Sprint, Mr. Garcia has been involved with several long term consulting projects. At YRCW, the nation's leading LTL trucking company, he took over the position of Chief Sales and Marketing Officer as part of an effort to lead the company out of near bankruptcy. This effort has resulted in a now vibrant company with a new sales processes and a streamlined organizational design. At VPSI, the nation's leading commuter van service, he was tasked by a Venture Capital company to help lead an aggressive growth plan. In his role as Chief Revenue Officer he reorganized field teams, established new sales training, renamed the company (now "vRide"), built a new full-service Website, initiated efforts to open new markets along with a variety of other initiatives. The company is now experiencing rapid growth and is seen as the leader in the industry.
Currently, John is engaged with a leading edge, virtual consulting company, NextGen Marketing. He has recently completed a project with a worldwide pharmaceutical company assisting with strategic planning and the implementation of a new Product and Project Management process allowing them to integrate known product development processes for complex compounds with wireless and application driven capabilities. This should result in breakthrough new capabilities for patients, doctors and caregivers allowing for the measurement of pill ingestion – all part of the emerging "tele-medicine" industry.
John is married to Mari Lynn Garcia; they have a daughter Christina who lives in Dallas working as an Interior Designer. He is on the Board of Director for the Red Cross, San Antonio Chapter and on the Board with Lighthouse for the blind. Previously in Kansas City, he was on the Board of the Sprint Foundation, MOCSA, (Metropolitan Organization to Counter Sexual Assaults), and Students in Free Enterprise, the National Hispanic Chamber of Commerce and Virgin Mobile. He enjoys golf, woodworking, photography, fishing and hunting.