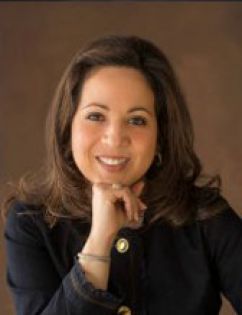 Passionate about education and children's and women's issues, Annette has dedicated the last 20 years to the San Antonio nonprofit sector— working to improve the lives of vulnerable children and families in our community.
Annette joined The Children's Shelter in September 1997 and became President/CEO in 2011. Annette began her career working in Prevention Programs where she conceived and directed the Project Mothers and School (MAS) program in 1999. The program, serving pregnant and parenting teens, has received national and statewide accolades. The Texas Alliance of Leaders in Children's Services (TALCS) recognized the program as the "Innovative Program of the Year" for 2002. In 2003, the Child Welfare League of America, recognized Project MAS as a model program of Best Practices for youth programs serving Latino populations and the U.S. Department of Health and Human Services recognized it as an exemplary program that "provides more wraparound services that any other similarly funded program" across the United States. The program has been featured in two national magazines, Children's Voices and Alliance for Children's and Families Magazine. The Prevention Department, under Annette's leadership grew from a $10,000 program to a $1.7 million dollar department—expanding programs to first time mothers, youth living in at-risk neighborhoods and dads needing support services to be good fathers.
In her journey to provide prevention programs, Annette founded the San Antonio affiliate of Girls Incorporated in 2004. As President/CEO of Girls Inc. of San Antonio, from 2004 to 2010, Annette launched an aggressive start-up. Girls Inc. of San Antonio received an unprecedented Standard of Excellence Certification from Girls Inc. National within two years of inception. In 2006, Girls Inc. of San Antonio received the "Innovative Program of The Year Award" by the Texas Alliance for Children and Family Services for "Girls University", an enriched, educational summer camp for girls ages 6 to 10. Since 2004, Girls Inc. of San Antonio has served over 10,000 girls in our community.
Today, Annette serves as the President/CEO of The Children's Shelter where over 4,000 children and parents are provided comprehensive emergency shelter, residential treatment care, and foster and adoptive homes for abused, abandoned or neglected children, along with in-home and group-based parenting education, counseling and wide-ranging support to vulnerable families annually.
Annette Rodriguez is a native of San Antonio. She graduated from McCollum High School and attended Our Lady of the Lake University where she received her Bachelor of Arts in Secondary Education and her Masters of Science in School Psychology. In 2009, she received her Executive MBA degree from the University of Texas at San Antonio.