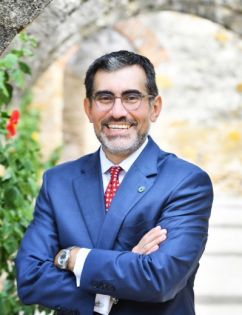 Dr. Mike Flores assumed his duties as Alamo Colleges District chancellor on October 1, 2018, having been chosen unanimously by the Board of Trustees. He possesses the distinction of being both the first internal candidate chosen as chancellor and the first Hispanic chancellor in the district's history.
His first day as chancellor coincided with the visit of the Baldrige National Quality Award examiners to the district, a process Dr. Flores was familiar with first hand, having hosted an examiner team during his six years as president at Palo Alto College. Only a little more than a month later, he led the district and its five colleges in celebrating the recognition of the Alamo Colleges District as the only community college system in the nation to be named a Malcolm Baldrige National Quality Award winner.
During his first month in office, Dr. Flores demonstrated his commitment to sharing ideas and engagement at all levels by scheduling College Conversations at all five of the district's colleges and district support operations to share his vision for the district and hear from students, faculty and staff. He continues to find opportunities for engagement within the district and with its community.
Early on he presented his strategic vision for the Alamo Colleges District—eliminating poverty in the San Antonio area through education. His vision is based on the personal experience of his family, which ingrained in him the belief that education is the best pathway to economic and social mobility. His own parents grew up as migrant farmworkers, but overcame the odds and earned college degrees, setting an example that he followed to a successful career, joining the district in 1999 and servings in all three vice presidential positions at Palo Alto College before becoming president.
As a leader, Dr. Flores supports empowering students for success through high-impact teaching and learning practices, including academic advising, early access to college through high school programs and experiential learning opportunities through apprenticeships, internships, and volunteer experiences.
While president at Palo Alto College, Dr. Flores established: new degree and certificate programs in high-wage, high-demand career areas; seven early college high school partnerships; the college's first Center for Mexican-American studies; and an Honors program. He led Palo Alto College to become a 2019 top ten finalist and Rising Star recipient of the 2019 Aspen Prize for Community College Excellence, a Malcolm Baldrige National Quality Award nominee, and the winner of the Texas Award for Performance Excellence, the state equivalent of the national Baldrige award.
He is nationally known as a coach for Achieving the Dream and as a fellow for the American Council on Education, Aspen Pahara Institute, and the Hispanic Association of Colleges and Universities. He conducted postgraduate studies at the Harvard University Institute for Educational Management and is in demand as a speaker at national higher education conferences.
Dr. Flores has worked with numerous community-based organizations in San Antonio, Houston, and Chicago. He also serves as a board member for the Hispanic Association of Colleges and Universities, Hot Wells Park Conservancy, San Antonio Hispanic Chamber of Commerce, San Antonio Tricentennial Commission and the World Affairs Council.
Dr. Flores was born in Del Rio, Texas and is a 1987 graduate of Holmes High School in the Northside ISD in San Antonio. He holds a Ph.D. in Educational Administration from the University of Texas at Austin, a master's in Political Science from Illinois State University and a bachelor's in political science from the University of Texas at San Antonio. He lives in central San Antonio with his wife Martha, a talented creative director and entrepreneur, and their daughters, Mara Zoe and Mia Ximena.