Joyce Slocum
Class XI (2015)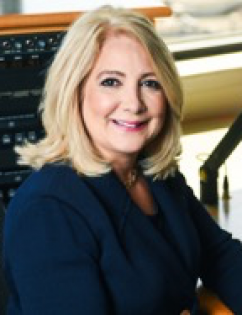 Joyce Slocum is President and CEO of Texas Public Radio, a non-profit public media organization that operates seven radio stations providing service to communities across a wide swath South Central Texas. TPR is a vital source of news and information and cultural programming for its audiences. Since joining TPR in 2014, Joyce has focused on enhancing and expanding its news coverage by adding critical editorial positions, establishing dedicated reporting beats and expanding digital operations. Under her leadership, TPR has had record-setting pledge drives and listener numbers are at an all-time high.
Previously, Joyce served in a number of roles at NPR, including Chief Administrative Officer, Interim President and CEO, and General Counsel and Chief Ethics Officer. Joyce also served as the Secretary of the NPR Board of Directors and as an adviser to the NPR Foundation Board of Trustees.
Prior to joining NPR, Joyce was Executive Vice President, Global Legal and Business Affairs, and General Counsel for HIT Entertainment, a producer and distributor of high-quality children's entertainment products. While at HIT, Joyce served a pivotal role in bringing together the unique partnership of HIT, Comcast, Sesame Workshop, and PBS to launch the groundbreaking Sprout children's cable television channel. Slocum began her career in the private practice of law, and then served as both a legal and business adviser during 10 years at 7-Eleven, Inc.
Joyce currently serves on the NPR Board of Directors, the Executive Committee of Eastern Region Public Media, the Board of Trustees of the World Affairs Council of San Antonio, the Advisory Board of the H-E-B School of Business & Administration of University of the Incarnate Word, the Board of Directors of the Alameda Theater Conservancy, the Board of Directors of San Antonio Youth Code Jam, and the Board of Directors of Artpace San Antonio, and is a member of the International Women's Forum, the Argyle Business Forum and the San Antonio Masters Leadership Alumni Association.
Joyce was honored with a 2017 Women's Leadership Award by the San Antonio Business Journal, and the 2013 PRRO Award from the Public Radio Regional Organizations, in appreciation of contributions made on behalf of public radio stations nationwide.
Joyce holds a Juris Doctor degree from the St. Louis University School of Law and a bachelor's degree from Southern Illinois University.