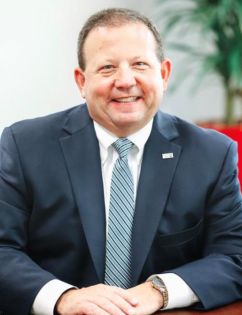 Chris Martin joined United Way of San Antonio and Bexar County as president on October 1, 2018. He officially assumed the role of president and chief executive officer on April 1, 2019. His background includes more than 30 years of United Way experience in various roles and communities.
Previously, Martin served as senior vice president/chief development officer of United Way of Greater Cincinnati where he was responsible for the organization's revenue generation and engagement efforts through annual, major and planned giving. Their annual campaign was among the top six in the country having raised more than $62 million, and the endowment held more than $70 million in assets and expectancies.
He also provided leadership to several supplemental community fundraising efforts to help advance the organization's work in the community. He provided primary staff leadership for the organization's $10 million capital campaign to renovate and expand its offices. He also helped lead a $10 million Winning Beginnings Campaign, which raised money for the expansion of the organization's early childhood development work.
Martin has served the United Way network in multiple leadership roles and capacities. He has served as a member of the Digital Services Operating Group, Corporate Relations Operating Group and United Way LINC steering teams. These roles have helped him contribute to network-wide solutions for individual digital engagement, improve corporate relationship experiences and individual affinity group engagement.
Prior to his time in Cincinnati, Martin served as the vice president of development for United Way of Palm Beach County in Boynton Beach, Florida; and was a United Way of America Management Trainee with experiences in Philadelphia, Pennsylvania; and Peoria, Illinois.
He currently serves as a board member of the Masters Leadership Program and a member of Leadership Cincinnati, Class XXIX, in addition to serving on its steering committee. A former board member for University of Cincinnati Early Learning Center, he is a past president and board member of the Association of Fundraising Professionals, Cincinnati Chapter.
Martin is a graduate of Lake Forest College in Lake Forest, IL. He and his wife, Krista, have four children.